Kevin Brezinski takes the helm as Alberta's new Ombudsman and Public Interest Commissioner
January 31, 2023 – A swearing-in ceremony for the leader of two independent offices of the Alberta Legislative Assembly took place today.
Kevin Brezinski is Alberta's tenth Ombudsman and third Public Interest Commissioner, accepting a five-year appointment to the dual roles. As an independent Officer of the Legislative Assembly, Brezinski will lead investigative operations for both offices.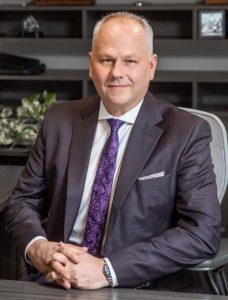 "Hearing I had been chosen as Alberta's next Ombudsman and Public Interest Commissioner was a great honour for me," he said. "I look forward to serving Albertans and supporting collaborative resolution of complaints across both offices."
Brezinski is well prepared for what lies ahead. A distinguished 30-year career with the Edmonton Police Service (EPS) and various policing roles provided extensive experience working within the guidelines of administrative law. Brezinski started with EPS in 1992 and rose through the ranks, serving most recently as Deputy Chief of Investigations and Support Services Bureau. Administrative fairness is not a new concept for him. He previously served as the senior officer in charge of the Professional Standards Branch dealing with complaints against police officers and the police service.
The mandates for Brezinski's offices are set out in the Ombudsman Act and the Public Interest Disclosure (Whistleblower Protection) Act. Since 1967, the Alberta Ombudsman has protected the peoples' right to fair treatment when accessing a public service. By investigating complaints, the Ombudsman promotes standards of fairness and makes recommendations for improvement when unfairness occurs. The Public Interest Commissioner's office creates a safe avenue for public sector employees to blow the whistle on significant and serious wrongdoing they believe to be unlawful, dangerous to the public or injurious to the public interest.
Brezinski's predecessor, Marianne Ryan, concluded her appointment as Alberta Ombudsman and Public Interest Commissioner in June of 2022. Since then, Deputy Ombudsman and Deputy Commissioner Peter Sherstan served in an acting capacity until the day Brezinski was appointed.
"I would like to thank Ms. Ryan for her leadership and dedicated service these past five years," said Brezinski. "Both Marianne and Peter Sherstan have been effective in building two strong teams."
About the Office of the Alberta Ombudman
As an independent Officer of the Legislature, the Alberta Ombudsman responds to complaints of unfair treatment by provincial government authorities, municipalities, the Patient Concerns Resolution Process of Alberta Health Services, health professions and other designated professional organizations.
Under the Ombudsman Act, the Ombudsman has the authority to initiate an investigation on his own motion in the case of systemic issues, or where the issues transcend a single complaint, affecting many people or vulnerable populations within the province.
The Ombudsman is also Alberta's Public Interest Commissioner. Under the Public Interest Disclosure (Whistleblower Protection) Act, the Commissioner's office facilitates a safe avenue for public service employees to submit complaints of wrongdoing or reprisal occurring in their workplace. The Commissioner conducts independent, impartial, and procedurally fair investigations into allegations made by whistleblowers.
About the role of the Alberta Ombudsman:
https://www.ombudsman.ab.ca/about/about-the-alberta-ombudsmans-office/
About the role of Alberta's Public Interest Commissioner:
https://yourvoiceprotected.ca/about-us/role-of-the-commissioner